LinkedIn Post Ideas for Chief Operating Officers (COOs) + AI Tool
Mastering LinkedIn as a Chief Operating Officer (COO): Essential Post Ideas to Elevate Your Online Presence
In today's digitally-driven business landscape, LinkedIn stands out as the premier platform for professionals to network, share insights, and showcase expertise.
For Chief Operating Officers (COOs) specifically, curating a compelling LinkedIn presence is not just beneficial—it's essential.
Whether you're looking to engage with industry peers, highlight your company's achievements, or demonstrate thought leadership, LinkedIn is your stage.
However, figuring out what to post can sometimes feel overwhelming. Fear not! In this comprehensive guide, we'll dive into tailored LinkedIn post ideas specifically designed for COOs, ensuring you always have relevant, engaging, and impactful content at your fingertips.
Let's elevate your LinkedIn game!
Chapters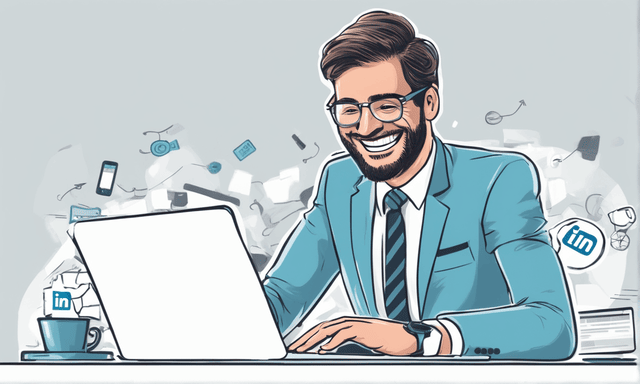 Improve your LinkedIn Marketing With AI
Simply increasing your LinkedIn Posting Frequency will help you get more views and engagement on LinkedIn. You can use AI Tools like an AI LinkedIn Caption Generator to get AI to do the heavy lifting for you, but if you really want to grow on LinkedIn, you need to have a Strong Strategy.
Improve your LinkedIn Marketing Strategy
If you want to create not just more, but also better LinkedIn Posts, join the community and get access to Unlimited AI Content Creation and Unlimited Learning.
Ask the moderators (30+ years experience) and community members anything related to marketing, get access to step-by-step courses, and to the AI Toolkit.
Check out the short video below to learn more.
LinkedIn Post Ideas for Chief Operating Officers (COOs)
Operations Metrics: Share monthly or quarterly operational KPIs with a brief analysis.
Company Milestones: Celebrate company-wide achievements, product launches, or anniversaries.
Team Highlights: Spotlight an employee who made significant contributions to operations.
Operational Efficiency: Discuss a recent initiative to streamline operations.
Challenges & Solutions: Talk about a challenge faced and how the team overcame it.
Tech Integration: Share a new software or tool that's optimizing company processes.
Books & Learning: Recommend a business or operations book you recently read.
Operational Trends: Discuss emerging trends in operations management.
Process Improvements: Highlight recent efforts to eliminate bottlenecks.
Supplier Shout-outs: Recognize a supplier or vendor that went above and beyond.
Case Studies: Share a short case study about a project that led to operational improvements.
Operational Quotes: Share a relevant quote on leadership or operations.
Day-in-the-Life: Provide a glimpse into a day in the life of a COO.
Team Building: Share photos or stories from team building activities.
Thought Leadership: Write about the future of operations in your industry.
Lean Initiatives: Discuss how lean management is being applied.
Industry Events: Share insights or takeaways from a conference you attended.
Hiring News: Announce new additions to the operations team.
Operational Strategies: Share a strategy that's driving growth or efficiency.
Sustainability Efforts: Talk about green or sustainable operational practices.
Certifications: Announce any certifications earned by the operations team.
Productivity Tips: Offer advice on maintaining high productivity levels.
Supply Chain Management: Discuss any innovative changes to your supply chain.
Training Initiatives: Share about ongoing training and development programs.
Operational Risks: Talk about risk management strategies.
Feedback Request: Ask for input on a new operational initiative.
Partnerships: Announce new strategic partnerships.
Behind-the-Scenes: Offer a sneak peek into your production line or back-end operations.
Operational Models: Share insights on a successful business model you're implementing.
Customer Testimonials: Showcase how operational excellence benefits customers.
Global Operations: Discuss challenges and learnings from managing global operations.
Workplace Safety: Share updates on safety protocols or achievements.
Employee Training: Highlight an employee who recently completed training or certification.
Operational Budgeting: Share insights on budget management.
Continuous Improvement: Talk about ongoing efforts for continuous operational improvement.
Crisis Management: Share how your team handles unexpected challenges.
Industry News: Comment on a recent piece of news in your industry.
Vendor Management: Share tips on managing and maintaining vendor relationships.
Employee Engagement: Discuss initiatives to boost engagement within the operations team.
Operational Goals: Share quarterly or annual goals and the plan to achieve them.
Outsourcing: Discuss the pros and cons of outsourcing certain operational functions.
Networking: Share about an upcoming industry event you'll be attending.
Operational Analytics: Talk about the role of data analytics in operations.
Innovation: Share any new, innovative practices being introduced.
Mentorship: Talk about the importance of mentorship in operations.
Operational Best Practices: Share industry best practices.
Change Management: Discuss strategies for managing organizational change.
Efficiency Tools: Recommend tools that help improve operational efficiency.
Cross-functional Collaboration: Share success stories of collaborating with other departments.
Cost-saving Initiatives: Talk about efforts to reduce operational costs.
Operational Forecasting: Discuss how you foresee the future of operations.
Diversity & Inclusion: Share about D&I initiatives within the operations team.
CSR Initiatives: Talk about Corporate Social Responsibility projects related to operations.
Operational Technology: Discuss new tech implementations.
Agile Operations: Share experiences about implementing agile in operations.
Project Management: Talk about a recently completed major project.
Employee Stories: Share personal growth stories of team members.
Operational Research: Share a recent study or research relevant to operations.
Conflict Resolution: Offer tips on resolving operational conflicts.
Digital Transformation: Discuss the role of digital transformation in operations.
Employee Wellness: Share initiatives focused on the well-being of operational staff.
Operational Resilience: Talk about building a resilient operations model.
Logistics: Discuss any advancements or challenges in company logistics.
Stakeholder Communication: Share best practices on communicating with stakeholders.
Regulatory Compliance: Discuss updates on ensuring operations comply with regulations.
Work-life Balance: Share how you maintain a balance between work and personal life.
Operational Audits: Discuss insights from a recent operations audit.
Growth Strategies: Share strategies to scale operations.
Operational Ethics: Discuss maintaining ethical standards in operations.
Inventory Management: Share tips or updates on managing inventory efficiently.
Operational Frameworks: Discuss a successful framework you've implemented.
Recognition: Celebrate awards or recognitions the operations team has received.
Economic Impact: Discuss the economic factors influencing operations.
Operational Consultation: Offer to answer operational queries for a limited time.
Cultural Insights: Share how cultural nuances impact global operations.
Operational Mistakes: Discuss a past mistake and the lessons learned.
Resource Management: Share best practices for effective resource allocation.
Operational Collaboration: Discuss collaborative efforts with other companies.
Operational Research: Share a recent study or research relevant to operations.
Remote Operations: Discuss managing a remote operational team.
Operational Insights: Share a podcast or webinar you found insightful.
Facilities Management: Highlight any upgrades or changes to company facilities.
Operational Humor: Share a light-hearted joke or meme about operations.
Operational Policies: Discuss the importance of establishing clear operational policies.
Benchmarking: Talk about benchmarking practices to measure operational performance.
Customer-Centric Operations: Discuss how operations are tailored to customer needs.
Operational Transparency: Share steps taken to ensure transparency in operations.
Best Practices Sharing: Offer to share best practices with startups or smaller firms.
Operational Scalability: Discuss strategies to scale operations sustainably.
Value Chain: Share insights on optimizing the company's value chain.
Disaster Recovery: Discuss measures in place for operational continuity during disruptions.
Operational Feedback: Share positive feedback received from stakeholders.
SOPs: Discuss the importance of Standard Operating Procedures.
Operational Predictions: Predict trends in operations for the next year.
Operational Automation: Discuss the role of automation in enhancing operations.
Sourcing Strategies: Share about sustainable or ethical sourcing initiatives.
Operational History: Share a throwback to a significant operational change in the past.
Networking Follow-up: Thank post-event thoughts after attending a networking event.
Operational Reviews: Share the importance of periodic reviews for operational excellence.
Future Planning: Discuss the vision for the company's operations in the coming years.
Gratitude Post: Thank your team and stakeholders for their continuous support and contributions to operations.
Start with an AI LinkedIn Post Generator
I strongly advise you to join the community shared at the top of this article to learn how to really use AI to reach your goals faster.
If you're just looking for ideas or AI Tools to help you create more LinkedIn Posts faster, check out this guide on The Best AI LinkedIn Caption Generators and select an AI Tool that fits your needs best.
They come with a free trial so be sure to check them out and play around.
More LinkedIn Post Ideas