How it works
We welcome Marketers and Designers to help Lucky Iron Fish fight Iron Deficiency which affects nearly 3.5 billion people worldwide.
Their approach:
A Lucky Iron Fish which can provide an entire family with up to 90% of their daily iron intake for up to 5 years. All you have to do is cook with it.
It's a simple, affordable, and effective solution anyone can use.
Your role:
All you need to do, to be part of this revolution, is take a look at their
website
and social media accounts (
Twitter
,
Facebook
,
YouTube
) and let us know in the comments below how they could improve.
Want to know the best part?
For every Lucky Iron Fish sold, one goes to a family in need.
Watch their video to get a better understanding of how great of a work they do.
We would love it if you could spare a few minutes and leave a piece of advice
Here's what we've already achieved and what we're working on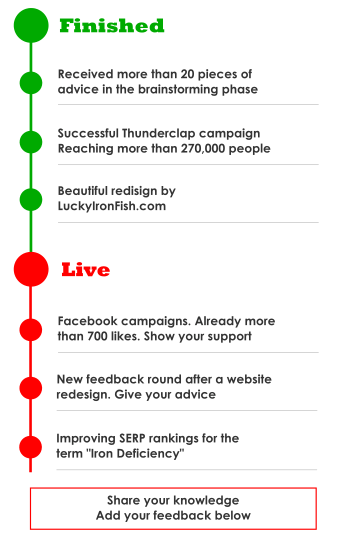 Join the family. Add your feedback below and/or share the love.