Have you ever clicked the 'Tweet' button and refreshed the page several times, just to see a handful of likes and retweets to your post?

I've been there when I had just a few hundred Twitter followers, but also now that I have more than 44,000 Twitter followers. If I don't follow this process, I'll probably end up getting about 30 to 50 retweets and likes. Which is decent, but every once in a while, I want to go that extra mile and get myself 500+ Retweets, for free. That's when I follow this exact step by step guide.


Here are a few examples of my tweets with high engagement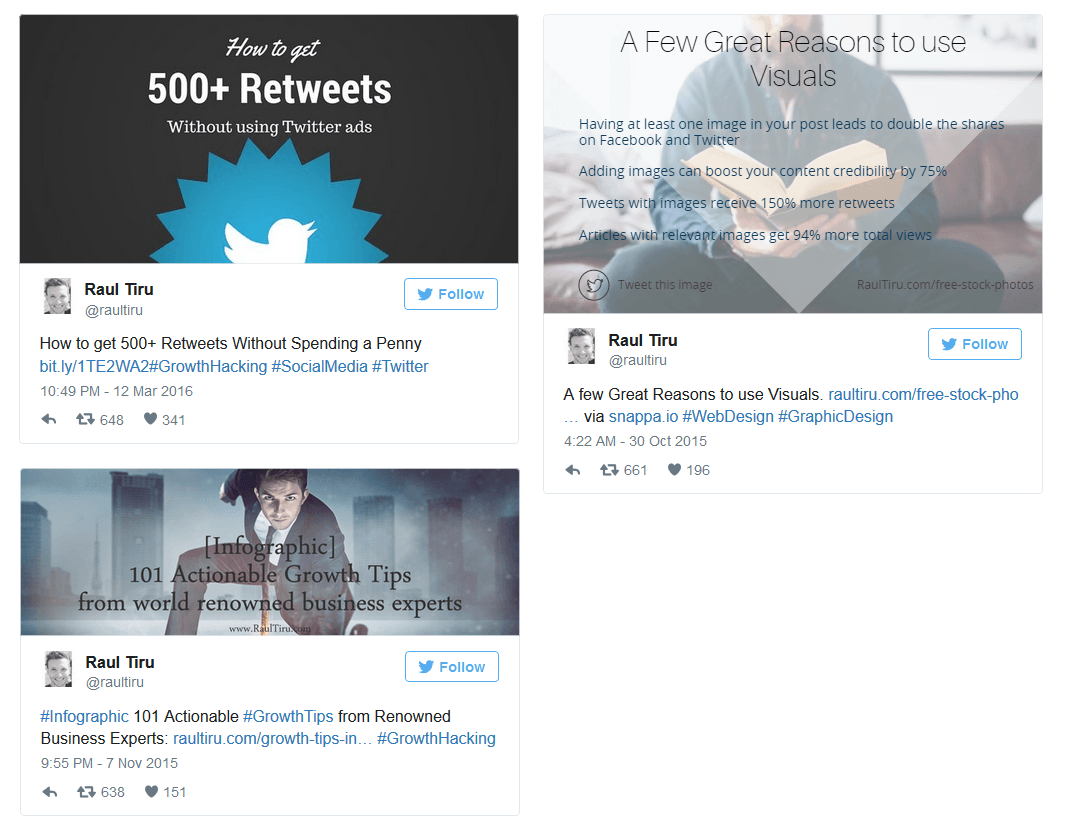 Why I love to build these Tweets
I'm not building these tweets just because it looks impressive. I've noticed that having one Tweet with a huge amount of retweets results in a snowball effect. People who see a Tweet with a few hundred retweets and likes are more likely to interact with it, it get's the attention of highly influential people and these tweets have often been added to curated lists like paper.ly.

See, one of these tweets even got the attention of Jeff Bullas.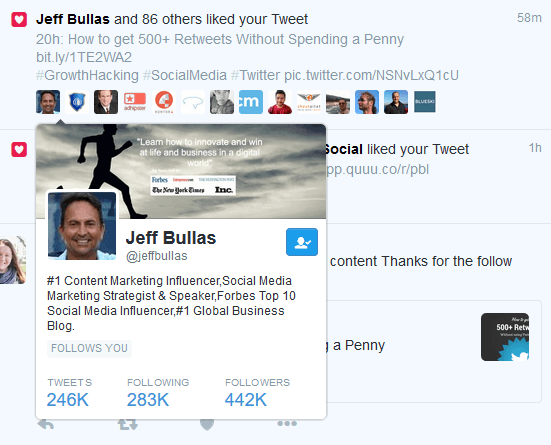 Step by Step guide to getting 500+ shares on Twitter without using Twitter ads
1. Write content people will love
Obviously, the better the content, the more people will love to share it. What I often see is that content marketers and bloggers write about what they THINK other people will like. If you like to gamble, go ahead. If you like to increase your chances that people will love your content, I suggest taking a few minutes and doing a short research.
How to find interesting topics in your niche and write killer content
This topic is way too broad to discus in this post. I'll give you a few quick examples. If you like more info, check out Brian Dean's Skyscraper technique or Neil Patel's advanced guide to Content Marketing.

Ok, so the easiest way to finding out what people in your niche like to read is to head over to Buzzsumo and type in any key word. Buzzsumo will then show you which articles received the highest amount of shares.

Second, go to Google and type in the same key words. See what kind of content pops up and analyze it.

Then, head over to communities in your industry, type in the same key words and see what people talk about or even better, are struggling with. Example of such communities are Reddit and Quora, but you should also check in your nice, like for example Bodybuilding.com if you're in the bodybuilding and fitness industry, AllRecipes.com if you have a cooking blog and so on.

I hope you'll have a good picture of what your audience love to read at this point and you can start writing that epic content. If you need more info about writing great content. Check out the resources I provided earlier or ask me a question in the comment section.
2. Use the right headlines attract attention
Your headline is your attention grabbers, your fist impression, your all or nothing. Make sure you nail this on. I'll give you some examples of headlines that work well and I'll link to a great resource page for more inspiration, and to read the psychology behind well written headlines.
Examples of well written headlines
9 Things No One Tells You About Blogging. One of Them Really Sucks.

21 Breathtaking Free Stock Photo Sites. The Last One Blew me Away.

A Shocking Thing 71% of Marketers Fail to do On Their Blog.

How to Solve the Biggest Problems with Online Marketing Tools.

The Only Way to Increase your Twitter Following Without Spamming.

If you're new to this. Please make sure to read the free e-book "How to Write Magnetic Headlines" by Copyblogger or ask me anything related to this topic in the comment section.
3. Use the right hashtags for optimal reach
I've noticed a big difference in the amount of engagement and views of a Tweet when using different hashtags. For example, every time I add the hashtag 'Growth Hacking', I get a huge amount of engagement and reach. Probably because Growth Hackers automate their Twitter accounts.

Another example, did you know that the hashtag "Digital Marketing" performs a lot better than "Online Marketing"? They seem the same, but there is actually a huge difference.

Luckily, you can look the popularity of the Hashtags up with tools like Hashtagafy.me and RiteTag. Here are a few Hashtags that perform well in the Digital Marketing space. I made this picture to illustrate the vast difference and importance in using the right hashtags. The stats are per hour, source RiteTag.com.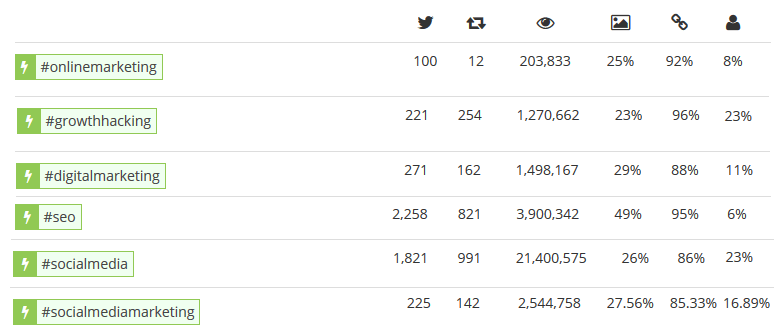 4. Use the right visuals to maximize engagement
Tweets with images receive 150% more retweets. Make sure yours is breathtaking. I've written a guide on Everything you Need to Know about Visual Marketing. Included are 22 Breathtaking Free Stock Photo Sites that Don't Suck, Tools to edit your images and much more. Be sure to check that out and you'll be good to go. Make something beautiful.
5. Pin your Tweet to your profile page so more people will see it
Ok, so the remaining steps are really easy to follow and shouldn't take too much time to complete.

Once you've created the Tweet you want to boost, pin it to your Twitter profile page so people viewing your profile will see it.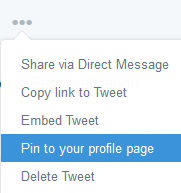 6. Use Copromote to get that extra boost
Copromote is a social platform where you can share people's social content, get points and submit your content so other people will share your content.

When I used Copromote a few years ago, I didn't like it too much. The quality of content I could share was low and I did not want to spam my followers with low quality content.

I started using it again a few months ago and now I love it. There are plenty of high quality marketers on the platform. There is a lot of high quality content I can share and my content gets shared by great influencers.
Quick explanation on how to use Copromote
Sign up with your Twitter account, set your preferences, click on your image, select profile, click on new boost and select the Tweet you like to boost.

After you've set this up it's time to follow like-minded people and share their content. This takes me about 2 minutes per day, when I feel like using Copromote.

The more people you follow, the more people will follow you back. When you boost a new post, your followers will get an alert that you've boosted a new post.
I would love to hear your thoughts so we can all improve our Social Media Marketing
That's it. I've just explained to you which exact steps I take to boost my Tweets to 500+ shares. As you can see, I've done it a couple of times and now I understand the process, I'll be doing it a lot more often and a lot faster.

Let us know what your thoughts are on this process and how you would improve it. I'm really looking forward to having in depth conversations.

Also, if you're having difficulties, let me know and I'll try to help you out.
Related books you should start reading today
The three books below can help you become much more effective with your Digital Marketing efforts. Check them out if you haven't done so yet.
Related resources